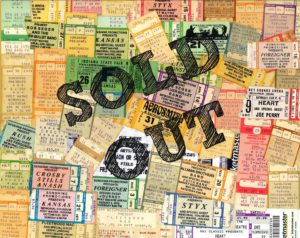 My two all time favorite bands are KISS and Def Leppard, which probably tells you everything you need to know about my age. I tried to count how many times I've seen them both in concert but my brain doesn't function that well on Sunday mornings before coffee (as I'm writing this). It's safe to say I've seen KISS at least ten times and Def Leppard at least five.
We recently found out that Def Leppard are coming here with Journey, who while not one of my favorites, has always been a solid music choice in my repertoire. I mean, is there anybody who grew up in the eighties that can't sing all the lyrics to at least one Journey song? They have always been on my bucket list of "just want to see them at least once" bands.
I was super excited to buy tickets to see both of these bands together, because a show is always better when you like all the bands that are playing.
I used to be a member of the Def Leppard fan club just so I could buy pre-sale tickets for shows and get a jump on the general public. I had to let that membership lapse, though, because I have better things to do with the $57 or whatever it costs now to keep it up.
Out of curiosity, though, I went online to see what kinds of deals they had available for the presale and that's when I realized just how old I really am.
The V.I.P. packages that include front row or first few row seats, meet and greets with the band, and I think a shirt were in the $400s.
Per person.
Oh, and don't forget $57 for the fan club membership.
That's not the worst I've ever seen. KISS, my top band, charges $1000 per person for the same "fan experience", but I had long since gotten used to the fact that they were greedy bastards and as long as there are crazy people out there willing to shell out that kind of cash, they will continue to charge it.
But while KISS has always been over the top in every respect, I was expecting my "lads from Sheffield" to be a little more down to Earth.
Another naïve notion shattered by commerce. They should come out on stage wearing ski masks and holding guns, because that's how I feel I've been treated when I see prices like that.
If there are any of you reading this under the age of thirty-five, you might not understand why this is such a slap in the face. Some time in the 90's, bands and artists realized they could charge ridiculous prices for tickets and "V.I.P. packages" and concert goers willingly paid it. It just snow-balled and now there's no such thing as going to an arena for a show for less than $100.
And if you're under the age of thirty-five and you're wondering why this chaps my ass so much, let me tell you a little story about my first concert, thirty-three years ago this month.
It was February 1985 and I was thirteen years old. (Why do I feel like I should  be shaking my cane in the air for emphasis and wrapping my crocheted afghan around myself?!?)
I had been a fan of KISS since I was five years old when my aunt, trying to pick out something "the kids like now",
bought my brother KISS ALIVE II for his ninth birthday.
I'll never forget my mother flipping the album over to see a giant picture of Gene Simmons in all his sweaty, blood-spitting gory, I mean glory. She threw her older sister a look and said, "Not these guys!"
Which, if you're a kid, means "I HAVE to see what this is all about!"
My brother and I together amassed quite a collection of KISS albums, posters, and other memorabilia. We both even joined the KISS Army (the fan club) and got our official certificates stating we were members.
I'd like to say I still have all that original stuff, but unfortunately, my brother's drug habit resulted in most of it being sold or traded and the rest was "cleaned out" and given away by my mother during one of those epic "mom sweeps" where everything you love gets given away because you've "outgrown" it.
I'm not bitter or anything.
Spoiler alert. I'm very bitter. Some of that shit could pay for my retirement now.
Anyway, over the years, my brother's love of KISS waned but mine never really did. I went through phases where I "liked" the flavor of the month at the time. My walls in those early years were a collection of seventies icons. I had Gene Simmons sitting on a chopper next to a poster of Shaun Cassidy and another one of his older brother, David. And don't forget Leif Garrett. He was so pretty.
Then came the early eighties and somewhere around the eighth grade, I fell back in love with my true love: KISS, and all of the hard rock bands that were following in their footsteps. KISS had just taken off their makeup a couple of years before in an effort to revive a career that, at that point, was almost to the point of sounding the death rattle.
They were still selling out soccer stadiums in other countries, but here in the U.S., people didn't even know they were still around. (Literally, my hairdresser at the time asked me, "Are they still around?")
I had never been to a concert before. What better first concert than my favorite band? I begged my mother to let me go, but I knew she would not let me go alone or drop me off with one of my same-aged friends, and there was no way she was going to buy a ticket for herself and subject herself to the onslaught of "Those guys".
So, even though my brother and I rarely even spoke to each other at this point, he was sixteen and had a drivers license and a car. I used it to my tactical advantage and told her my brother could take me. I knew it wouldn't be hard to convince him. My mother would pay for his ticket and he could use it as an excuse to meet up with his friends and get high.
Why my mother allowed this, knowing what she knew about my brother, I will never know, but I'll always be grateful. While my brother got baked in the back of the concert hall with his friends, I stood at front of the stage, literally within spitting distance of Gene Simmons and Paul  Stanley.
They played the El Paso Civic Center, which was not a large venue. In those days, the arena to play was The El Paso County Coliseum in all its un-airconditioned glory. KISS at that time was on such a decline, they were relegated to the Civic Center, and not even the Grand Hall. And there were so few people there, that this little five foot tall thirteen-year-old easily made it to the front of the General Admission crowd without getting trampled.
And I paid $14.95 for my ticket.
Years later, in college, I would see both KISS and Def Leppard in Houston at The Summit (an arena that held approximately 20,000 people). Both shows were sold out and yet we still only paid $20-25 for our tickets which, while not the best, were still on the first level and pretty decent. To give you some perspective, I worked at the University Bookstore at Texas A&M for what was minimum wage at that time, $4.25 an hour. That meant I had to work about six hours to pay for my ticket to the show. At today's prices and minimum wage, a kid would have to work a week to pay for a ticket to a show.
Those Def Leppard tickets I just bought? I had to settle for "nosebleeds" on the third tier of the BOK Center in Tulsa. My cost…a little over $94 per ticket.
On the third tier.
The cheapest first level tickets that I found were $176 per ticket. Floor seats were fast approaching that $400 ticket price I mentioned earlier. And there are three of us going to this show, so that's not an option.
You can call me old if you want to, but I kind of like those modern conveniences, like electricity and food that isn't Ramen noodles. That's where my money goes now, so $600 for three of us to see a show and not even have the best seats isn't something we're going to do.
I guess if there's a rant to be had in this post, it's this: I can't believe that bands treat their fans this way. I know they have to make a living and I know that going on tour isn't cheap and everyone has to get paid.
But I was there when you couldn't even sell out the smaller hall at the El Paso Civic Center. I used my allowance and bought your $10 shirt (try getting a shirt at a concert for less than $40 these days!). I bought every single one of your albums, some of them twice because of the ones my brother absconded with. Then I bought them again when CDs became a thing. And some of them again on iTunes!
I've bought shirts, and collectibles and enough merchandise to fill a museum.
But I have to neglect making a house payment if I want to buy a chance to shake your hand before a show?
Well shit on you.
I'll always be a fan of the music. I'll even brave my extreme fear of heights to pay a still-ridiculous price for tickets so that I can relive my youth for ninety minutes in July. But I'll never root for you to succeed like I did in 1985.
I sold that loyalty to buy a damned ticket to your show.
Post script:
In 1997, when my mother was fifty-seven years old, I took her to her very first rock concert to see "those guys". KISS had reunited all of their original members, put the makeup back on, and started their "reunion tour". By then, they had started patting people down and conducting bag searches at concerts. I'll never forget the guy who searched my purse, looking up and seeing my white-haired mother standing there in her sensible shoes with her ginormous mom purse and looking completely out of place.
He looked at me, looked at her, and then he shook is head and waved her through. I teased her for years that we should've smuggled in all sorts of contraband in her purse, because she was the perfect cover.
As for The Summit in Houston, it is no longer known as The Summit and no longer hosts rock concerts or sporting events. It is now known as "Lakewood Church".
Yes, that's right. It is now home to mega-church Pastor Joel Osteen and his congregation. I can't watch him preach without thinking about the depravity that took place in those seats.
Not that I would know anything about that…