I have an anniversary today, but it's not for my wedding or work. It's for weight loss surgery.
Two years ago today, I had Vertical Sleeve Gastrectomy, which I think is Latin for "You'll never eat a whole sleeve of Oreos again."
That's probably a loose translation.
A VSG procedure is basically removing approximately 75% of your stomach, leaving you with a long tube (or sleeve), rather than a big, round, stretched out pouch. The way the surgeon described it is he's taking a football and turning it into a hot dog.
I'll probably save my story and background about why I did the weight loss surgery in the first place for another post, but I wanted to mark the date today with a few things I learned from the process.
Most People Are Pretty Supportive
Before the surgery, I only told a few close friends and family. It wasn't that I was ashamed or trying to hide anything. I had just heard a few horror stories about unsupportive people and I really didn't feel like having a debate or defending a choice that was very personal and important to me.
Luckily, everyone I told in those early days was very supportive and afterward, as people started noticing the weight loss and I came clean about what I did, people were still very encouraging and supportive. I was never made to feel bad about my choice with my friends, family, or coworkers.
Online is another story, which brings me to the next thing I learned.
People Can Still Be Assholes
Never ones to disappoint, the haters are still out there and they especially love spewing their opinions online.
I've pretty much quit reading comments on news stories online because…well…the stupid really stings. It's the same
when one of my Facebook friends posts something the least bit controversial like "How was the State of the Union Address last night?" and I can't read the comments because I become convinced that the only thing that will cleanse this world is fire and maybe Trump just needs to press the button so that Kim Jong-un will also press the button and then we can reduce the Earth back to single-cell ameoba and just start over again.
But I digress.
I don't see it often, but I do see it occasionally. The topic of WLS (weight loss surgery) comes up and just like assholes, everyone also has an opinion and feel the need to spew them, whether they understand the weight loss issue or not.
"Why don't you do it the right way?"  Ummm…what's the "right" way? Your way or the highway? I didn't realize that when it came to human beings, one size fits all. What works for you should work for me, right?
"You don't need surgery. Just eat less and move more."  Thank you, Richard Simmons. I wish I had thought of that. Like I haven't spent the last thirty years starving myself, purging, eating low fat, eating low carb, eating for my blood type, eating gluten-free, eating only three foods per day, joining gyms, doing workout videos.  I never made it to goal at Weight Watchers, but I'm pretty sure there's a chair with my name embossed on it because I've joined and attended more meetings than I can count and that doesn't include doing the online program. And somehow, I still ended up 125 pounds over my ideal body weight for my age and height.
"You're just being lazy. You just need to work harder." Lazy? Work harder? The last time I checked, the surgery did not get up at 4:00 a.m. for me and work out for an hour before going to work at my full time job. It doesn't teach aerobics classes like some of my WLS friends do. It's a tool. That's it.
"You're cheating. That's the easy way out." Yeah…it's "easy" the same way having a C-section is the easy way to have a baby or the jaws of life are the easy way to get out of a car. 
Incidentally, I'd like to address those people who think those of us who had C-sections somehow "copped out" and didn't allow nature to do what it was intended to do. I have only one thing to say to you.
Fuck you. And your stretched out vagina.
Again, I digress. On to the next lesson learned…
Issues With Food Don't Just Disappear With Surgery
Luckily, I got myself into a good headspace before having surgery because I knew that I wanted to fix what was causing me to be overweight to begin with or surgery would not help me. I went to counseling, I researched and read everything I could, and I listened to everything my bariatric team told me.
That doesn't mean I don't still struggle.
In those early days, when you're struggling just to drink an ounce of liquid and keep yourself hydrated, and later when two tablespoons of food fill you up and nothing sounds good anyway, you don't have to worry too much about food. It all pretty much takes care of itself. But later, when you've healed, and food starts sounding good again, and you start having cravings, that's when the real world crashes back on you.
My sleeve will now hold anywhere from a half cup to a cup of food, depending on the food, and it's very easy to overdo it. Some people are never able to eat certain foods again after surgery because it upsets their little pouch. I don't have that issue, other than getting too much sugar at a time. If we go out for a special dinner, I can either have a drink or I can have dessert, but I can't do both. I found that out the hard way at Rock and Brews in Oklahoma City when I had to suddenly excuse myself from dinner and make a beeline to the restroom.
You can imagine that for a true food addict, it's a slippery slope. I constantly have to monitor myself. Some days I lose the battle and have the Cheetos. Some days I'm better and have my protein snack instead. It will be this way forever, but I'm a lot better at forgiving myself now.
Looking Good Is Great But Feeling Good Is Better
If you're around my age, you probably remember Billy Crystal's character "Fernando" on Saturday Night Live. He used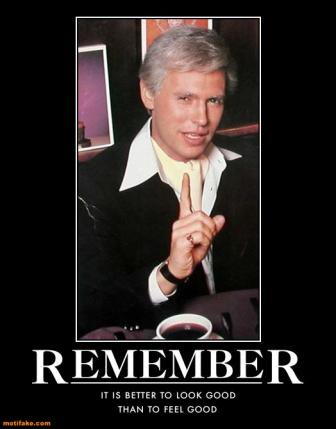 to say, "You look mahvelous!" and "It is better to look good than to feel good!"
I'm not going to lie. I feel better about my looks. Clothes fit me better and I don't feel as self-conscious. These were things I was expecting.
I wasn't expecting how good I would feel physically. I had forgotten what it felt like to walk from my car in the parking lot to my desk at work without getting winded and without my hips and knees hurting. I had forgotten what it felt like to not have people twenty years older than I am lap me at the mall. I had forgotten what it was like to wake up in the morning and not feel achy just from the sheer weight of my body laying in one position for a long time.
In other words, I wasn't expecting to feel so much like my old self, probably because I had forgotten who the old me is. Honestly, I don't think I found the old me because I lot weight. I think I found the old me because I got a "reset" on my life.
I told The Husband Dude for years that I needed a "reset" button. I didn't have that switch in my brain that triggers most people to put down their forks and step away from the table. That lack of a "turn off" switch led to a lifetime of obsession with food (whether eating it or trying not to), constant guilt and a life that revolved around what I was eating.
Surgery gave me that switch back. I can't explain it. I'm sure doctors could give a medical explanation for it, but all I know is that once the physical ability to overeat was stopped by the surgery, and I didn't have to obsess over what I was eating anymore, I suddenly found myself focusing on other things.
Things like relationships. Things like goals. Things like pursuing dreams I didn't think were realistic before.
Things like writing.
Sorry, Fernando, but you were wrong. It is better to FEEL good, than to look good.
That doesn't mean I can't laugh at this, though.
Stay weird, my friends. Normal is boring.