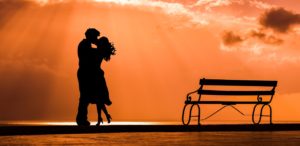 Brace yourselves. Valentine's Day is coming.
I know what you're thinking. C'mon, Kat. It's a month away.
Well, you're right. But I was in CVS a full week and a half before Christmas and they had already started putting out the Valentine's stuff.
That's right. A full month and a half before Valentine's Day and before one of the most commercial holidays of the year.
I'm sure you've already felt the onslaught. Candy, cards, stuffed bears, cupids, red, white, and pink everything.
If you're single, you're feeling I-want-to-roll-my-eyes-up-in-my-head-at-all-the-cute-couple-bullshit. I feel you. I didn't get married until I was twenty-eight and except for two really bad dates just prior to The Husband Dude, I had a dry spell for five years.
Five years of not even a "Hey, would you like to get a drink?"
I get you. Believe me.
Hatred for Valentine's Day isn't just exclusive to single folks, though. I know plenty of people in relationships who hate this commercial holiday as well, simply because it IS a commercial holiday. There's so much pressure to buy just the right gift or card and be as romantic as possible. Every year it gets harder to top the previous year.
THD and I also have our anniversary in March, so we've got two card/gift/romance occasions pressuring us in the span of a month. It gets ridiculous.
In the beginning of our relationship, we would try to live up to the hype. There were a lot of flowers, candy, cologne and trinkets. There was a lot of planning and let's do this, let's go here. It sort of became a chore, especially for two people who are pretty practical in what we find to be romantic. He's pretty happy when I bring him a cherry lime-aid from Sonic and I'm pretty happy when I don't have to clean up the kitchen after dinner.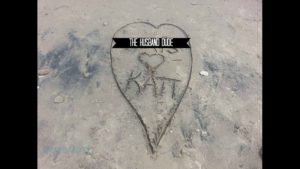 I love flowers and candy as much as the next girl but take a worry or chore off my plate and handle it for me? THAT'S romantic! And honestly, The Husband Dude can be a very romantic dude, but his best surprises are always on a random Tuesday for no reason. Whether it's writing a message in the sand at the lake or in the snow on my car, or when he remembers I like something in a store and goes back to get it, those gestures are the ones that count.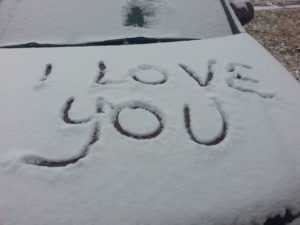 We kind of made an unspoken agreement in the last several years that we won't go all out for either Valentine's or our anniversary, unless it happens to be a milestone anniversary. Usually, we give each other two cards (one funny and one serious or gushy one), and go out to dinner. It's more than enough.
With all of that being said, I acknowledge that a lot of people do like to go "all out" on Valentine's Day and express their love and adoration in more traditional ways. I would be a dumbass not to include any Valentine's Day designs in my Zazzle shop, so I have created some items that I hope will make people smile. Many of the designs are created with a tongue-in-cheek sensibility and I hope people will appreciate that humor.
I've also included some cards with pretty designs on them that are blank on the inside. I did this for the people who want to give something a little less humorous and a little more sentimental or serious to their loved ones. There's nothing more sentimental or romantic than your own words, even if you aren't a good writer, per se. Your loved ones will appreciate reading your words over that of a copywriter any day! They'll also appreciate the time you put into it.
You can either purchase the card as is and then write your sentiments in it, or you can customize it with different fonts/colors and Zazzle will print it for you right on he card! Either is a great option for a great, one-of-a-kind card.
What I really want to focus on, though, is one design in particular that I created for all of the ladies out there, but especially for the single ones. It's a piece that I created with a lot of love and it is very near and dear to my heart.
Let me give you a little background.
As I've written before, The Husband Dude and I broke up ten years ago and lived apart for about a year and a half. It was truly one of the most difficult times in my life. He moved out and I stayed in our house, which I shared with my mother, Shane, and five cats.
Valentine's Day came that year and I knew our anniversary would arrive shortly after that. I was in a very depressed frame of mind, as the idea that I might actually become the crazy cat lady I had always feared I would seemed a real possibility. I couldn't bear the thought of going to work and watching all the ladies who would be receiving flower and gift basket deliveries. So, I did what any mature thirty-five year old woman does.
I called in sick and stayed in bed all day.
My mother, for the most part, stayed out of my business unless her opinion was asked. But on this particular day, she came into my room, sat on my bed, and handed me a small box wrapped in Valentine paper.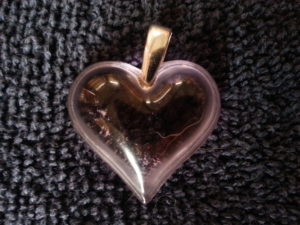 I unwrapped a beautiful pink, heart-shaped pendant made from Lalique glass. I was stunned. She was a QVC addict so I was accustomed to receiving all sorts of baubles from her, but this little trinket was different.
"I'm giving this to you because it's Valentine's Day and because it's a beautiful piece. What I want you to remember about this day is that I raised you to be a smart, strong woman. You deserve beautiful things and you don't need a man to buy them for you. If you want something beautiful, you can give it to yourself because you're worthy. If you find a man who will do that for you, it's just a bonus, not a necessity."
Her words have never left me. In my most difficult times, I've remembered "Strong, Beautiful, Smart, Worthy", and they have seen me through some real trials.
With that in mind, I wanted to create a Valentine's gift that would remind every girl and woman of their strength, beauty, intelligence and worthiness. Something simple, but pretty, that they could carry everywhere with them. That's how this design was created: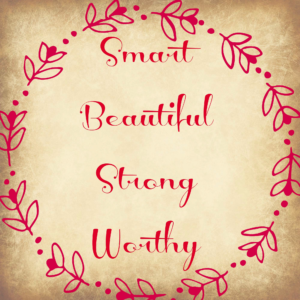 I'm not a pink girl, myself. Blue is actually my favorite color, but pink was Mom's so I made this in dark pink to honor her. It wasn't until I finished the design, that I realized the first letters of each word correspond with my mother's initials. "S and B" are her maiden name initials and "S and W" are her married initials.
I don't think this was an accident. I have always felt my mother "speaking" to me in different forms since she passed. This is why I want to share this design and this message with you. If it makes one of you feel like the shining rock star you are, then I feel like a success!
I've placed this design on a locket, a pendant necklace, a bracelet and even a keychain so that we can take this message everywhere with us. The designs are shown in silver plate but some of the styles are available in gold finish and even sterling silver.
Don't just consider these for your girlfriend or wife. Consider them for your mother, aunt, cousin and sister. Yes, your sister!
Let me speak directly to all the guys out there who have a sister. I never got a gift that was directly from my brother, or that he came up with on his own. When my brother was single, I didn't get gifts. When he was with a girlfriend, the girlfriends were the ones who always bought me gifts. In later years, my mother would wrap a gift that she would label from him, but I always knew that she thought it up and paid for it herself. The only "gift" my brother ever gave me was a Blondie album he shoplifted from Sound Warehouse, when I was nine years old.
I can laugh about it now. But come on…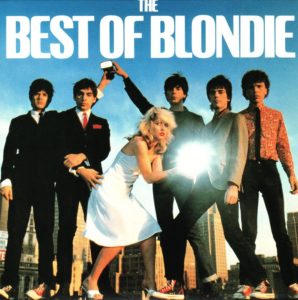 So, if you're a brother to a sister, give your sister something special. Whether it's my necklace or something else. She'll never forget it!
Consider these for the pre-teen and teenage girls in your life. They need this message more than anyone. They need to know they're smart, beautiful, strong and worthy! Imagine how powerful for a girl to receive this from her father or grandfather. What a memory that would create!
Most importantly, buy one for yourself. Go back and re-read what my mother told me. If you don't buy this design for yourself, then go find something else that you think is beautiful and gift it to yourself. Spend time doing something fun for yourself. Treat yourself to a spa day. Be kind to yourself.
You deserve it, my friends.
And now, brace yourself for the Valentine's Day onslaught.