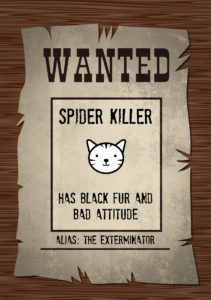 The Spider
Sometimes I really like the "Memories" feature to Facebook when things pop up that you posted in the past. This little item from a year ago popped up and I thought I would share it. I didn't think it was possible to get attached to an arachnid, seeing as how I spent most of my life killing them as quickly as they came into my view, but even now I find myself being cautious when I flip on the light switch where our little buddy spun his web.
I know. Our family is weird. You'll get used to it.
Here's my Facebook post from a year ago.
Tonight we bid farewell to our buddy, Peter Parker. He was not just another spider. He was a member of the family.
Pete peacefully became our roommate sometime over the summer. He divided his time between the crevice behind the phone jack and a sheet-like web he strung up under the kitchen cabinet. Never the slacker, Pete earned his keep by capturing and devouring flies and other pesky insects that meandered into the house.
We had a firm agreement in place. He promised never to bring his girlfriends around, laying their egg sacs everywhere, and I promised not to Napalm his ass with a can of Raid.
He was a great roommate, minding his own business and never leaving dirty dishes in the sink.
When it got colder, The Husband Dude would catch crickets and throw them on his web. That's probably why he was getting so big and fat, which may have been what caught the attention of a certain little predator known as Mr. Luna.
Yesterday  we found Peter Parker on the kitchen floor, a crumpled heap of arachnid sadness. It must have been a horrible end.
I'm sure you all think we're crazy for keeping a pet spider in our kitchen. We prefer the term "eccentric".
The Eggs (Mine, Not the Spider's)
Speaking of memories, THD was cleaning out the shed out back and he pulled out a tub of Shane's baby clothes I had stored in there. The lid had opened slightly and everything inside got musty and damp so I decided to bring it all in and wash it because I do want to keep some of the items and I may put a couple of his little outfits in shadow boxes.
There's only one problem.
Little. Tiny. Baby. Socks.
They're Kryptonite.
I can't be around baby socks. Or baby feet. Why? Because I end up having to talk down my ovaries like a freakin' hostage negotiator.
Ovaries: Oooooh…itsy bisty baby socks! We want a baby! Another baby!
Me: Step down, bitches. You know that isn't happening!
Ovaries: Noooooo…we love baby feet! Don't you want to smell baby hair again?
Me: And baby poo…and baby puke…
Ovaries: Little fingers and little toes and snuggles…
Me: And staying up all night, walking the floor with a screaming baby…
Ovaries: Your baby is a big hairy teenager now and your grandbabies are little girls. Don't you want another one?
Me: A child that's younger than my grandkids? Ummm….NO!
Ovaries: We still work! We can keep going!
Me: Look, Chicas, just because you refuse to shrivel up and die, that doesn't mean you are spring chickens. You bitches are fucking old! You're so old, your eggs can legally drink.
Ovaries: That's cold, dude. Just for that, we're going to keep working another five years AND give you hot flashes too! And we're going to throw some zits in, just to make it interesting.
Me: Hey, a hot flash lasts a few minutes and zits only a few days. That's what makeup is for. A baby is eighteen years and beyond. Plus, I don't have to watch The Husband Dude change his name and move to Mexico when I tell him I'm pregnant just six years before he's trying to retire. I might just talk to my doctor about evicting you bitches altogether.
Ovaries: You're harsh, dude. Just harsh.
* Long pause*
Ovaries: Don't you want to hold those baby socks again?
Me: Shut up. I will cut you.
Stay weird, my friends. Normal is boring.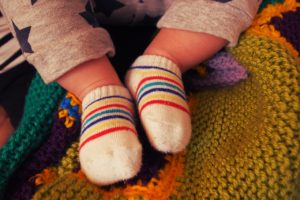 Don't forget to follow me on Facebook and Twitter for a daily dose of funny!