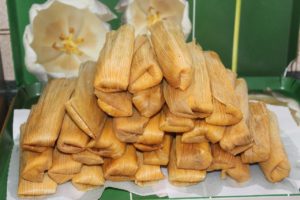 We had a very important day this week in our household. It was Christmas Tamale Making Day. If you are not aware of what a tamale is, let me try to explain.
A tamale is the best food you will ever put in your mouth.
Maybe I need to be more specific. Here is the definition from Dictionary.com:
tamale
[tuh-mah-lee] /təˈmɑ li
noun – a Mexican dish made of minced and seasoned meat packed in cornmeal dough, wrapped in corn husks, and steamed.
That's the clinical definition, but they are so much more.
Tamales are a tradition. In Mexico, they are the traditional Christmas Eve meal. Sometimes the entire family gathers together to make them, because you don't just make a handful. You make a thousand of them.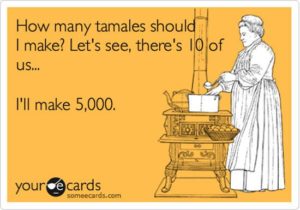 I might be exaggerating a little. But not really.
This traditional Christmas Eve meal seeped over the border into the U.S. and many American families on the border and beyond consume tamales on Christmas Eve (and several days before and after). Growing up in El Paso, my family was no different and my mother always hosted our Christmas Eve tamale meal every year.
Of course, in El Paso there is no shortage of places where you can buy delicious tamales without actually having to put in the effort of making them. Never a lover of the culinary arts, this was right up my mother's alley. Buy them. Eat them. Perfect.
When I moved to Oklahoma, I began a quest for the perfect just edible tamales I could serve on Christmas Eve.
I went through a lot of tamales. Tiny tasteless ones. Big bad ones. Cholesterol free ones that tasted like cardboard. And one place had ginormous ones that looked like giant dildos that had gone terribly wrong.
It was the giant phallic tamales that finally led me to start making my own. I took a basic recipe I found and tweaked it with a combination of spices and seasonings that became the tamales which reminded me of those from my childhood. Good as gold.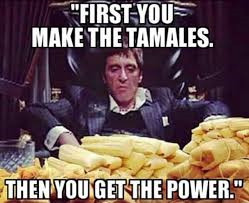 No, I'm not bragging. I've actually used my tamales as currency. To date I've traded my tamales for jewelry, beauty services and a furnace check-up.
Which brings me to the other part of the tamale tradition, which is families making tamales together. Recipes are often passed down from generation to generation. Since I'm the first generation to have created this particular recipe, I am passing it on to the next generation, in this case, our daughter Kim.
This is the second year that Kim and I have made tamales together. I forgot how much fun it was the first time. We sit around, gossiping, laughing, and searching for lost appendages.
Well, not a full appendage. Just part of one.
Ok…maybe I should back up a little.
We made the first dozen tamales, which should really be called the "practice run" or "dress rehearsal" or "for the family only because these will be ugly and fall apart and they aren't good enough to give or sell to other people but they're ok for people we're just related to."
We were just starting to hit our stride, getting the masa (dough) on the husks, adjusting the right amount of pork filling, rolling them up so that they don't actually sort of stay rolled up and stick together. I loaded the steamer pot up with this first dozen, filled it with water, and turned on the gas. I reached over to turn on the timer and that's when I saw it.
Four manicured acrylic fingernails, adorned with bronze glitter and creamy pearlescent polish.
And one sad, plain, jagged looking real fingernail.
"OH SHIT!"
"What's wrong?" Kim asked, startled.
I held up my finger and she instantly looked confused, because she isn't used to her stepmother typically flipping her off.
"I. Lost. A. Fingernail!"
Her confused expression slowly gave way to horror and her mouth flew open into a silent, "OH!"
"Are you sure?" she asked.
I waved my middle finger wildly, like a road rager in traffic. "LOOK!"
"Oh my gosh!" she yelled.
"Oh crap!" I yelled.
"Maybe it's on the table!" she said and we both started scanning the table. I dropped down on the floor, looking around my chair and under the table. Nothing.
"Maybe it's in the masa!" I started pawing through the giant mixing bowl of dough. "My nail is the same color as the masa and meat! How are we going to see it?"
"Maybe you lost it in your car this morning?" Kim asked hopefully.
"No. I would've noticed it missing before now."
We both stopped and stared at each other, knowing exactly what we had to do but not wanting to do it.
"We have to check the tamales, don't we?" I asked in defeat.
"Yeah," she nodded. "We have to."
I took the lid off the steamer pot and we both stared at the half-completed tamales. Using tongs, I pulled them out and one by one, we unwrapped them and dug through the meat inside the masa.
One by one, we didn't find the errant piece of acrylic.
After carefully inspecting all twelve, we both look at each other. It was a relief not to find the nail, but where the heck was it? Would somebody bite into it while enjoying their Christmas dinner at our house?
"Are you going to tell Dad?" she asked me.
"If I tell Dad, he won't let me serve these. I'd hate to let them go to waste…" my voice trailed off because I really wasn't even convincing myself.
We put them back in the pot to continue steaming while we started rolling the next batch, silently considering what to do next. Eventually, the conversation picked up again and we started talking about other things, but every time I got up from my chair, I scanned the floor, the counter and even the stove for just a hint of where that stupid fingernail went.
"I think this batch is done," I said, turning off the gas and opening the lid. "I guess I'll put them in a separate freezer bag and mark them somehow."
"How are you going to mark them?" she asked.
"I don't know," I said. "Maybe I'll label the bag with a little star? Or a middle finger?"
She laughed as I opened the lower cabinet to pull out a cookie sheet to lay out the steamed tamales on.
There, sitting on the cookie sheet, was a perfectly shaped acrylic nail with bronze glitter polish.
"I found it!" I shouted.
"For real?" she shouted back.
I held up the nail for her to see. We high fived, then hugged. We may have danced a little.
"Now you don't have to draw a little middle finger on your bag," she laughed. "Now you can tell Dad."
"Don't get carried away," I winked. "That's just crazy talk…"
Later that evening, I came up with a new tradition for us to include and texted it to Kim: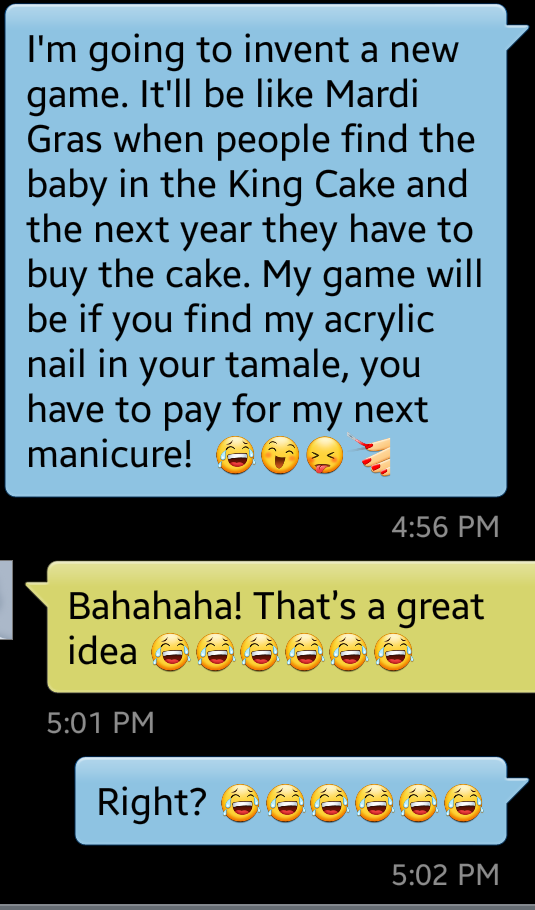 Ok…maybe not.
Maybe we'll just drink wine while we make tamales.
And I'll make sure all my body parts, real or fake, are secure.