One would think that my "day" job would make me a more studious and careful driver, but actually, it has just frozen me with paranoia and anxiety.
I find myself avoiding Walmart parking lots as much as possible.
Ok…that's a lie. I avoid Walmart as much as possible.
But if the claims I see are the basis for any statistics, Walmart shoppers not only have a flair for nightwear-as-outerwear-attire, they also have a flair for backing into and running out in front of each other in the parking lot and playing bumper cars with the shopping cart corrals. I won't even mention the old lady at Christmas who almost turned me into one of the white lines in the pedestrian "cross-walk" in front of the store.
I also no longer enjoy patronizing Sonic Drive-Ins unless I'm going through the drive-thru because backing out of one of the parking stalls requires three millions glances from one mirror to the next, over the shoulders and a 180 degree turn of my head that defies the laws of human anatomy.
And speaking of the drive-thru, the name implies you must DRIVE THROUGH. It's not called a "Back up suddenly for no reason". It's also not called a "stare at your phone while your foot slips off the brake and you roll forward". It's called a "Drive through" because it's a line that you drive through to get the kind of food that will kill you eventually. Just because you are stopped or driving at a snail's pace doesn't mean you get to quit paying attention. So put down the Twitter and get your hands on the steering wheel, foot on the brake, eyes ahead of you!
And while I'm on the subject of Drive-thrus, you don't have to fight for your place in line at McDonalds. Unspoken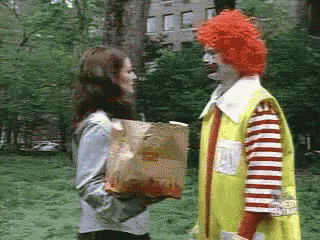 etiquette dictates that every other car should take turns from the two lanes that merge into one lane going to the window. But don't get your panties in a bunch if someone cuts in front of you or happens to finish their order a little quicker and gets ahead of you.
Fun fact: There are cameras on the drive through speaker. They take pictures of you and your car to go with your order. That's how they know who the food goes to.
So calm down, Ricky Bobby. Your twenty piece chicken nuggets with extra BBQ sauce will be waiting for you at the window. You don't need to ram the car who cut you off to make a point.
As long as I'm ranting. Let's talk about precipitation. You know…rain, sleet, snow, ice.
Spoiler alert: it's wet!
Another spoiler alert: it's slick!
Unless you are trying to perform a Dukes of Hazard slide-sideways-until-you-stop-just-short-of-hitting-Sheriff-Roscoe's-car, I suggest you quit lead-footing it to avoid the need to suddenly slam on the brakes when traffic slows down or comes to a halt in front of you.
Spoiler alert: Traffic always eventually slows down or stops.
And while we're on the subject of the Dukes of Hazard slide-sideways-until-you-stop-just-short-of-hitting-Sheriff-Roscoe's-car maneuver, I've decided to create a defense for all auto accident attorneys to employ when trying to defend their obviously liable not guilty clients.
It's called the Dukes of Hazard Defense®. I didn't call it the Dukes of Hazard slide-sideways-until-you-stop-just-short-of-hitting-Sheriff-Roscoe's-car-maneuver defense because that's way too long and wouldn't look good on my business card.
What is the Dukes of Hazard Defense®, you ask?
It's the defense that states the other person HAD to be at fault, because THEY hit YOU with the side of their car. You know, like when you're carelessly carefully backing from the parking spot at Walmart and that other car was dumb enough to be driving down the aisle minding their own business and then they just suddenly gunned it as fast as they could, slammed on their brakes, and slammed dead center into your rear bumper with their driver's side door, Dukes of Hazard style.
You know, THAT maneuver.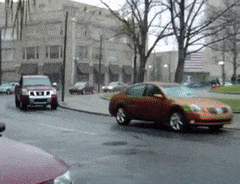 Spoiler alert: That's not how this works. That's not how any of this works.
But, using historical data gleaned from all the recorded statements we've taken from drivers over the years, I feel confident that I can write up a bullshit totally legally compliant defense that will eventually become a joke case law when it's thrown out of tested in court.
And I will be rich.
Spoiler alert: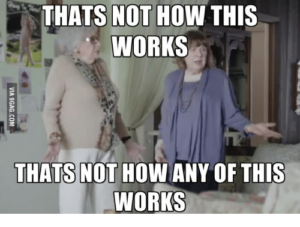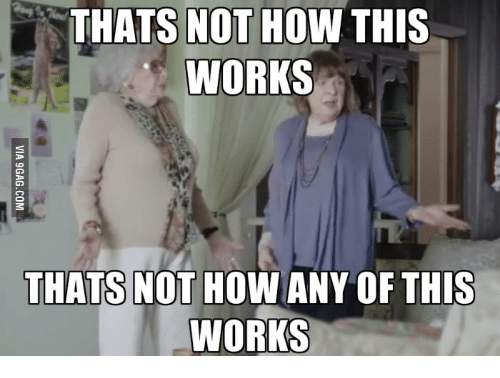 Of course, you should not feel safe, even if you manage to avoid Big Box stores and fast food establishments, although you WILL be much safer from heart attack or carjacking by a dude whose pants keep falling off his ass.
These are not the only places where we get the bulk of the accidents we see. Let's talk about freeways and interstates, shall we? Six to eight glorious lanes of traffic jammed with the best that road rage has to offer.
And they're all coming from or going to a job they hate.
It truly is glorious. Thousands of angry commuters, behind the wheels of their death machines, fighting for a lane that's next to the one that's about to end. By the way, nice try Saturn Station Wagon. That incredibly adept maneuver where you tried to force yourself in front of the F-210 extended cab resulted in a Total Loss on your part.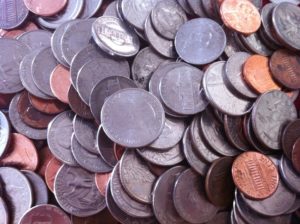 Fun Fact Guess: I don't know exactly what the actual cash value of a 1995 Saturn Station Wagon is, but I'm guessing it's more than a Coke from a vending machine and less than a Venti Green Tea Latte at Starbucks.
Of course, I don't want you to think that I consider myself to be a superior driver. Far from it. I'm a terrified driver, which makes me a terrible driver. Sure, I'm careful, and I drive defensively, which is what you're supposed to do. But I think I'm too defensive.
I am totally the person that would swerve and hit three parked cars just because someone looked like they were going to come over into my lane.
I'm the person that frustrates the hell out of you because I can't make left turns (remember that post?) I sit there, making sure it's absolutely clear before I make that turn. Five normal people could've already passed through the gap of cars in oncoming traffic, but I'm still waiting because as long as I can identify the color of the oncoming car, it's too close for me to turn.
I'm also the person who pulls up to a four way stop or an intersection where the lights are not functioning so everything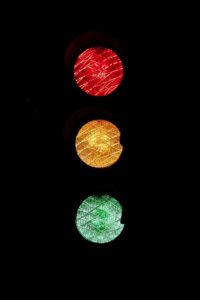 is flashing red, and suddenly everything I learned in Drivers Ed goes out the window.
I panic and start looking at the faces of the other drivers, hoping to find the adult at the intersection. Like, who is the most adulty looking person here and what are they doing? Never mind that I'm forty-six years old, and by most standards, have been an adult for decades. When I pull up to a four way stop, I am suddenly an eight-year-old who needs parental guidance.
Just tell me what to do!
And driving at night? Fuhgettaboutit!
I don't see as well at night as I used to, and when you're a paranoid driver anyway, not feeling like you can see everything just adds to the paranoia. Plus, you get to that four way stop and now you can't see anybody's face so you have to rely on the fact that you're an adult and have to figure it out.
And then there are the headlight flashers. You know the ones. When it's your turn to do something but you're too paralyzed to do anything, the other guy flashes his headlights at you. And if you're paranoid like me, then you remember the story your Mom told you in 1996 about how you should NOT flash your headlights back, because it's actually a gang initiation and if you flash your headlights back, you are now the target and they will follow you and carjack you and rape you and kill you and leave on the side of the road.
And your Mom knew this because her friend heard it from her sister who worked with a lady that read it in the paper about someone she used to know in high school.
And now I really wish I had that little can of pepper spray I used to carry on my keychain.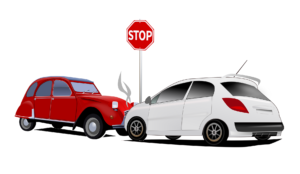 Despite what I consider to be over-cautious-to-the-point-of-being-dangerous-driving-skills, I've never been involved in a serious accident when I was driving. I've been rear-ended a couple of times by people not paying attention and I was in a more serious accident when my friend was driving and a guy pulled out from a side street and T-boned us.
A couple of summers ago, I rolled into a guy's trailer hitch in front of me. I was looking to the left to see if it was clear to proceed out from the stop sign and I thought he had already gone on ahead of me but he was still there. Luckily, I just put a nice square little impression on my front bumper and he had no damage at all. Thankfully, I've never been in a serious accident that was my fault.
You may be asking if I've ever received a ticket. I've had two, both for being really stupid.
The first was when I was about twenty-three or twenty-four years old. I had been over at a friend's house across town until about two o'clock in the morning and I was really tired. No drinking going on that night (I wasn't much of a drinker in my early twenties), but I was totally exhausted and wanted to get home, so I *may* have gotten on I-10 and ramped it up to 90 mph.
Because, you know, going thirty over the speed limit seems like a good idea when you're really tired.
"I…uh…dunno…uh…really tired…feed my cat…er…stupid and I'm sorry?" probably isn't the best answer to give the officer when he asks why you were going so fast.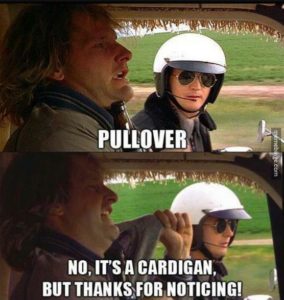 That was an expensive ticket, but I got to take a Defensive Driving class to keep my insurance rates from going up. As it turns out, in those days you could take "Comedy Defensive Driving".
Yes, it was as wrong as it sounds.
What is Comedy Defensive Driving? I'm glad you asked. They hired "professional" stand-up comedians who would get certified to legally teach the Defensive Driving class and then you actually went to the comedy club for six hours during the day to take your class.
And while I'm sure it was slightly more interesting than just the regular class, it was NOT the comedy they promised. I'm pretty sure the comedians they hired had to do this as their day job because paying customers would've walked out on their act at night. I didn't laugh much, but I came away with a certificate and the stench of stale cigarette smoke that permeated the club.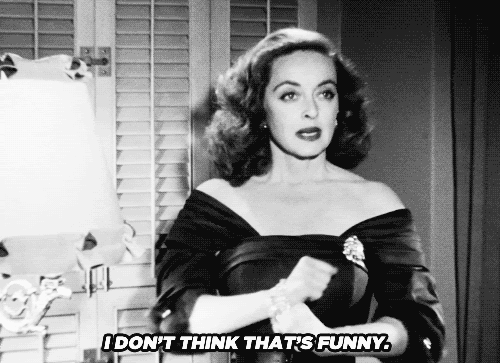 Of course, to be fair, there's only so much comedy you can inject into a Defensive Driving class and still impart the legally required information. When you're forced to show videos of train vs car wrecks and what happens when you roll a car, any jokes at that point would be completely inappropriate.
I think I just discovered my next job.
The second ticket I ever received was about five years ago. Another stupid maneuver. This time I was pulling out of Rocket Brothers with my large Raspberry Iced Tea, and clearly I had not had enough caffeine.
Thinking I had enough time to pull out in front of the oncoming traffic, I got about halfway into the lane when I realized that no, there was not enough room. I just pulled out in front of a lady and now she's honking at me and cursing and I could not blame her at all.
That's  when a Camaro coming from the opposite direction turned on his lights and I realized I had just done a really stupid thing in front of an unmarked police car.
Good times.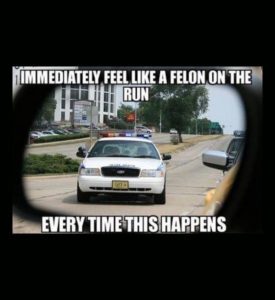 I'm sure the lady I pulled out in front of drove away laughing at the instant karma. At least, that's what I would've done. I totally deserved it.
As for me, I pulled over and waited for the officer to approach my car. This time, I had much better response to the officer's question.
"I…uh…dunno…uh…iced tea and…er um…stupid and I'm sorry?"
I'm really glad to see that those fifteen or so years between tickets didn't change me much.
Spoiler alert: Failure to Yield will cost you $125 in Broken Arrow, Oklahoma. Just FYI.
Stay weird, my friends. Normal is boring.
And slow the fuck down!