The last two weeks have been crazy. Since I announced the opening of my Zazzle shop, life has been a blur of writing for this blog, creating designs for the shop and trying to strike a balance between marketing adequately without spamming and alienating my friends and coworkers.
Hats off to all you small business owners that have found this balance, because it is HARD!
Add to that the fact that I still work a full time "day" job for which I've also been working some overtime to make some $$$$, and you can imagine how stretched I'm feeling right now.
Stretched enough that I'm going to have to disappoint my kiddo and tell him that I can't hang out with him today (it's Sunday as I'm writing this, though it'll probably be Tuesday when you read it) because my scratchy throat I've been nursing for a couple of days has me feeling completely drained and I've got to feel better because there's no calling in to work in the morning.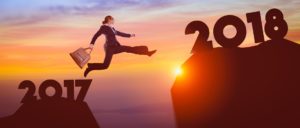 Which brings me to Mom guilt. That was a topic of discussion at breakfast yesterday with my two besties. I won't go into details because their stories are very personal, but suffice it to say, you can't be a mother without feeling all ranges of guilt from "I missed my kid's baseball game again because I had to work" to "deep, scarring, wounding situation that I'm not sure I can ever forgive myself for".
I think this is truly a topic that probably deserves its own blog post, possibly right around Mother's Day. It'll be cathartic and then we can maybe all feel better about the fact that there's no owner's manual to this mothering thing and we just have to do the best we can with what we've got!
Anyway (and yes, I know you really shouldn't start a sentence with "anyway", but we're just talking here, right?)…anyway, so many of you are so kind as to ask "how things are going" that I thought I'd just update you on some of the more significant happenings with all my new little ventures. Here's a round-up of the latest.
I Thought Twitter Hated Me But We're Kind of Friends Now
I'm not going to lie, Twitter has been the most difficult social media platform for me to get used to and grow. It seems like the name of the game is to just get as many followers as you can.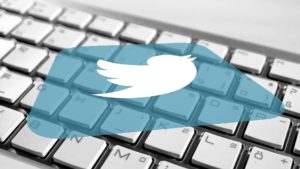 On the surface, that seems like a good goal for someone like me who is trying to get more readers for her blog, and consequently generating more revenue from the affiliate links I include in my posts (you can read my disclaimer here) and sending more traffic to my shop.
But the truth is that most of the people who are following me on Twitter have never even visited my blog. I know this because of the analytics software I use to track traffic. A lot of people who "follow" you are only doing so in order for you "follow" them back so they can add to their number of followers. Later, many of these people will "unfollow" you so that their ratio of "followers" to how many they actually "follow" looks like they're extremely popular and discriminating.
In other words, they look like a celebrity who has half a million followers but they themselves only follow like  hundred people. It's all a game. A ridiculous game.
Of course, the advantage for me is that I still have less than two hundred followers so I can usually weed out the people that initially followed me, waited for me to follow them, and then proceeded to unfollow me again.
Because I'm a bitch and I don't play that game.
However, back to the issue of attracting what I call "quality" followers. The ones who are going to read my blog and interact with me and hopefully they subscribe and keep coming back. These are usually other bloggers and I always try to reciprocate by reading their blogs, commenting and interacting with them as well. I've finally started finding more and more of these people and I've really enjoyed reading their blogs. I'll have a list at the end of this post so that you can read them too!
Pimpin' Ain't Easy
I don't know anything about pimping, but this makes a good headline, right?
Opening an online shop has been both fun and educational. It has only been two weeks, but I've learned so much on a daily basis, it almost feels like I went back to school.
The problem is that I have so many design ideas but there are only twenty-four hours in a day and most of those hours have to be doled out for other activities!
If I were an artist, who could draw or paint, or a photographer, I'm not sure you could ever pull me away from the shop. I've discovered so many awesome designers in the last two weeks that I've even started "collections" for them in my own shop.
A "collection" is just a group of products that I, as a Zazzle shop owner, can either curate from my own designs or from those in other shops. When you visit my shop, click on the "Collections" tab and you'll see collections of my own products as well as collections I've curated from other shop owners.
I chose some because they were cute or funny, and others because they were eye-catchingly beautiful! In particular, if you love colorful mandalas, check out Julie Erin Designs. She is a talented artist with some gorgeous designs!
So About This Kangaroo Thing…
Speaking of other bloggers, I've mentioned before that I'm a fan of Jenny Lawson, known as The Bloggess (you'll find a collection of her designs in my collections as well).
A few weeks ago, she posted about her cat making her guilty because she keeps bringing her socks out of the dirty laundry and she thinks this is possibly a message about the laundry not getting done. I posted a comment about a cat I had that used to love pulling tampons out of the box and scattering them around the house and then SHE commented back and totally made my day: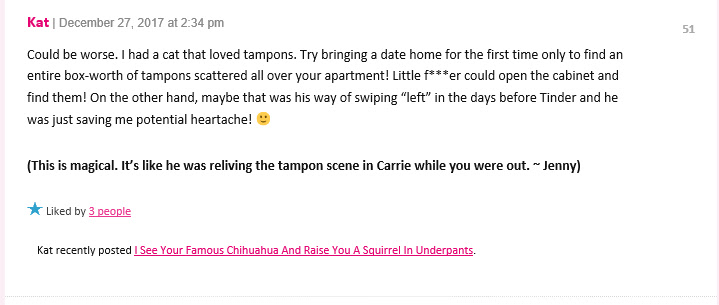 The tampon scene in Carrie! Hilarious!
So just this last week, she wrote a post about Winnie the Pooh Day and that Eeyore was her favorite because she could relate.
I posted a comment about Kanga and Roo being my favorites because I've always been fascinated by kangaroos. Unfortunately, as usually happens when my brain gets ahead of me and people are feeling comfortable around me, I have a way of making everything awkward. You know, like bringing up random trivia about Jeffrey Dahmer.
In this case, I mentioned that I had weight loss surgery and that a friend asked if I would have a tummy tuck if my skin didn't snap back after I lost the weight. My response was that I would just have them sew it into a pouch so I wouldn't have to carry a handbag anymore and that I can't carry my son around like a joey, because he's fifteen now and teenagers frown on that kind of thing.
Yes. I said that.
I post things like that, because I'm not normal. But that's ok. Normal is boring.
Anyway (yes, there I go again starting a sentence with "anyway"), I'm not sure why I've always been fascinated with kangaroos other than they are my probably my spirit animal. They appear on the surface to be cute and cuddly but really they just want you to get close enough that they can kick you in the face.
That pretty much describes me.
Google Is My Co-Pilot
I feel obligated to point out that in order to post a screenshot of my exchange with The Bloggess, I had to first Google how to take a screenshot with my laptop because I had no idea. I watched a twenty second YouTube video and now I'm not sure if I feel smarter or dumber because I couldn't figure it out on my own.
All I know is that Google isn't even a person but I consider it to be in my "circle" of people somewhere behind The Husband Dude and probably in a tie with the lady at Rocket Brothers who knows I always order a Raspberry Mocha on Fridays.
Body Art
Finally, one of the coolest things that happened these last couple of weeks is that somebody apparently thinks my "Smart Beautiful Strong Worthy" jewelry design would make a good tattoo.
One of the social media platforms I promote my blog and Zazzle shop on is Pinterest. I got a notification that my necklace design was saved to somebody's Pinterest board called "Body Art" and when I looked at the board, she had nothing but tattoo designs on it.
I'm not even an artist or anything, so that's pretty damned cool!
And if any of you out there decide to get a tattoo with my design, please send me a picture because it'll totally make my year!
Thank you all again for reading my blog and supporting the shop. You have no idea what that means to me!
Now here is that list of blogs I promised you!
dSavannah…Lives with chronic illness and shares her journey with us. She's also a southern belle! Check out her story.
Susie Truett…A makeup and beauty blog for women over 40. Thank God! I don't need beauty advice from someone who has only been adult for five minutes!
Insomnia Girl…I'm not joking when I say that I laugh out loud at this blog. If you've ever been kept up at night by strange thoughts, read this blog!
Ocean Hayward…witty and real. She writes about everything from travelling adventures to mental illness. Always has great photos!
Really Lori Rose…Lori is a personal friend. I've known her as long as I've known The Husband Dude (I met them both in the same chat room online). We've been through marriage, divorce, birth, death and everything in between together. Her stories about life with her disabled "Male Sibling Unit" will make you laugh out loud. I truly hope she writes a book someday!
Stay weird, my friends. Normal is boring!