One of my most popular blog posts was the one where I described my marriage with five actual conversations. I know we're not the only ones who have these kinds of conversations. Everyone can just relate.
I get people asking me all the time, "Did you make that up? Did that really happen?"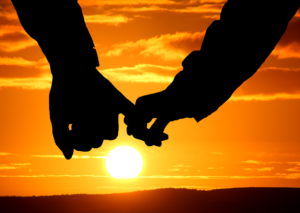 The truth is, except for some slight hyperbole here and there, some condensing, and maybe editing out some things that are boring or don't need to be blasted on the internet, my stories and conversations are all true.
I mean, really, you can't make some of this up.
In fact, it has gotten to the point that The Husband Dude will say, "Put THAT in your blog!"
Or, "DO NOT PUT THAT IN YOUR BLOG!"
He knows I've got the mind of a writer and I can't help but view life in terms of how I would retell the story later. He's gotten used to it.
Anyway, I thought since it's Friday and we all could use a little levity, here are some more conversations with The Husband Dude. Have a great weekend!
The Catman
THD (preparing his coffee, Mr. Luna the cat comes sauntering across the counter toward him): No no. Get down.
Mr. Luna: *ignores the admonition, rubs against THD's arm*
THD: Get down. You're getting hair everywhere.
Mr. Luna: Meow. *rubs some more*
Me (picking up the cat and putting him on the floor): I'm always the bad guy with this cat. You grumble a lot but I'm the one who always has to be the bad guy.
THD: That's not true. I hate that cat.
Me: Really? I watched you contort your body into positions I didn't even know you could do just so you could get out from under the covers without disturbing the cat this morning.
THD: *shrugs* He looked comfortable.
Me: We once watched an entire episode of a show we don't watch because Mr. Luna was sitting in front of the cable box and the remote control didn't work.
THD: He was cleaning himself. I didn't want to disturb him.
Me: You won't make up the bed if the cat has settled into the covers. You always have to pet him and scratch his ears before you leave for work. You won't get up from the couch if he's laying on your lap. The other day, you sent me pictures of kittens for adoption at the shelter.
THD: What's your point?
Me: You're officially a cat man.
THD: No I'm not. I hate that cat.
Me: You always let him curl up with you at night and he always heads straight for your lap when we're watching T.V. He never gives you a warning bite like he does with Shane and me. The two of you are totally bros. It's officially a bromance.
THD: I hate cats.
Me: Then why was Peter Criss your favorite member of KISS? He's the Cat Man.
THD: *realizes I'm right*
Me: It's ok. You aren't losing your Man Card. Norman Reedus has tattoos, rides a motorcycle, and has a black cat too. Plus, he plays a guy who kills zombies. You're in good company.
THD: *mumbling* I hate that cat. *opens a can of tuna for his lunch, pours the juice in a bowl for the cat*
Me: Yeah…keep telling yourself that…
Chicago's Greatest Hits
THD (watching a documentary on the band Chicago): Isn't that cool? He just wrote that song, sitting on the floor at almost 4 a.m. and all he did was describe everything. He wrote a song about writing the song!
Me: I don't get it.
THD: Get what?
Me: I get describing everything but I don't get '25 or 6 to 4′.
THD: It's the time. It's 25 or 6 to 4.
Me: I get that it can be 25 minutes to 4:00 or 6 minutes to 4:00, but how can it be both?

THD: *blinks*
Me: *blinks*
THD: He means it's 25 minutes or 26 minutes to four o'clock.
Me: *blinks*
THD: *blinks*
Me: Oh. Mystery solved. Carry on.
THD: How long has that been bothering you?
Me: How old is the song?
THD: 1971
Me: That's the year I was born.
THD: Yeah.
Me: That would probably be how long it has been bothering me.
THD: *nods*
Me: You know, my first exposure to Peter Cetera was when he did that song for The Karate Kid Part II.
THD: That was a great song.
Me: Did you know that I never knew Peter Cetera was in Chicago until you told me that when we first got married?
THD: Huh.
THD: *sips his coffee*
THD: *gives me side eye*
THD: *probably wondering why he married a woman ten years younger*
Maybe if I had a cool clock like this, I wouldn't have been so confused!
Must See T.V.
Me: Vanderpump Rules is coming on.
THD: Wait! This is almost over!
Me: But you've seen this documentary already. I can watch the end of it later.
THD: I promise it's almost over. You're gonna like it.
*Documentary ends and we change over to my show*
THD: What did he say? What happened? What's going on?
Me (giving him side eye): Well, apparently in the first ten minutes we missed all the drama because Jax cheated on Britney and had sex with Faith and then Faith recorded their conversation on her phone and James stole her phone and sent it to himself and gave the recording to Lala who played it for Adriana who told her to play it for Britney at the housewarming party and Britney was drunk and got upset so she played it for all of the guests at the party in front of Jax and then she kept screaming 'Why me?!?'.
THD: *blinks* All of that in ten minutes?
Me: Yes. And we missed it. But it's ok, because thankfully I know how the documentary about the Polka King of Pennsylvania ends even though I already knew how it ends because we just watched the fictional movie about it with Jack Black as the Polka King.
THD: But Jack Black really nailed that character, though, right?
Me: Don't talk to me.
Must See T.V. Part 2
Me: This Is Us comes on tonight.
THD: I'm just gonna watch Andy Griffith until it comes on, ok?
Me: Ok
Me (seeing that the final credits are starting): *picks up the remote*
THD: No, wait! I want to see who played…
Me: This better not be another Polka King incident.
THD: *blinks*
Me: *blinks*
THD: But Jack Black really nailed that character, right?
Me: Don't talk to me.
Probabilities
Me: I had a dream last night that Mr. Luna had kittens.
THD: Like actually gave birth to them or just had some with him?
Me: He actually birthed them. I was holding him and he started convulsing like he was having a seizure. Then all of a sudden all these kittens started popping out from….well…somewhere…
THD: I can top that.
Me: You can top a male, neutered cat giving birth to kittens?
THD: Yes. I dreamt that X apologized to us.
Me: X? Apologized?
THD: Yes. He sat us down and he said 'THD, Kat, I'm really sorry for x,y,z. I'm really sorry for what I said to you both'.
Long pause.
We both start laughing.
Me: You win. There's waaaaaay more chance of Mr. Luna giving birth to kittens than X apologizing.
Give each other a fist bump.
Actual Text Messages
I'm a writer. I'll text a dissertation and cover three topics at once. THD is a man of few words, as illustrated in this text:
Of course, I'm also really bad about getting distracted, especially if I get a text at work, as illustrated by this text exchange: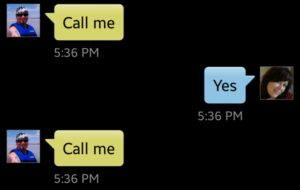 But what it all boils down to is this (HAGD stands for "Have a good day"):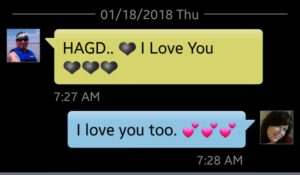 Stay weird, my friends. Normal is boring!