On Wednesday, my Facebook memories reminded me of yet another reason I was so glad to see 2016 fade away. December 27 marked one year since my main Princess, Carrie Fisher, died.
For those who were not Star Wars geeks, it was just another celebrity passing. I recall overhearing a conversation between coworkers who "didn't get it" why some of us were so upset. That's why I took to Facebook to see if I could articulate what it all meant to us, and as it turns out, I struck a cord with a lot of people.
I thought I would share what I wrote then because the sentiment still resonates with me. Thanks for reading.
December 27, 2016
I grew up in the 70's and 80's. When I was six years old, you had the sexy bombshells on TV and in movies. They were usually blonde and not always smart. Think Farrah Fawcett and Suzanne Summers. There was nothing about them that I could relate to.
There were also the "smart, nerdy" girls. They were usually brunette, kind of boring, and they played second fiddle to the bombshells. Think Joyce DeWitt and Kate Jackson. They more closely resembled me, but who wants to be the boring, smart girl?
Then along came a little movie about a galaxy far, far away which featured a princess who was NOT a damsel in distress.  Far from it.
For the first time in my very young life, I had this fictional character who looked like me: short, brunette, brown eyes. Yes, I used to be brunette…a long time ago in a galaxy far, far away!
She was smart and she was a leader who was far from boring.  She kicked ass and she took names. I was hooked, but not just on Star Wars.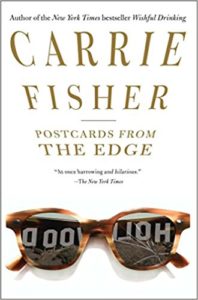 About the time I was discovering that I wasn't half bad at putting my thoughts on paper, Carrie Fisher published her first book, "Postcards From the Edge". You may remember the movie starring Meryl Streep and Shirley Maclaine.
How could you not love a book where one of the first lines is, "Maybe I shouldn't have given the guy who pumped my stomach my phone number…"?
Her writing was witty and sardonic and everything I wanted my literary voice to be. How can you not love a memoir titled "Wishful Drinking"? Her honesty and self-deprecating humor on the page are everything I would want my writing to be.
If you've never had a substance abuse problem or metal illness, or if you've never loved someone who did, her writing might not mean much to you. But to someone like me, who had a brother with both issues, her writing was an outlet for the rest of us.
It was a beacon, just a glimmer that everything isn't always perfect but it can be ok.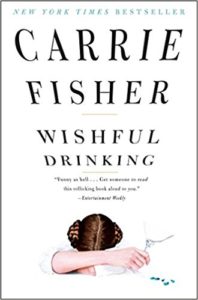 That normal is boring.
Her flaws were my flaws. Her insecurities were my insecurities. Her humanity was my humanity. She grew up in the shadow of a very accomplished mother and never felt like she measured up.
I SO GET THAT!
If there was ANY celebrity in the world I wanted to meet, it was her. I would've told her how much that Princess she brought to life meant to a little girl who needed an escape from reality, who wanted to be able to be smart AND funny AND pretty AND tough.
I would tell her how her books seemed to cover just the right topics at just the right moments.
I would tell her that I want to kiss her lips because her lips touched Harrison Ford. She'd probably think I'm crazy, but she might laugh and let me, because she just seems that way.
No, I wasn't the one weeping in the cafeteria this morning, but I understand it, and I'm not ashamed to say I shed a tear or two.
I'm not ashamed because I DID lose something today that may seem trivial to some, but it was far from trivial to me.
I didn't know you, Ms. Fisher, but I knew your words and your work, and they brought me laughter, tears, and escape over the years. Thank you for that.
Thank you from the little girl in the third row of the theater, wearing buns on either side of her head.
Post Script
A couple of weeks ago, we went to see "The Last Jedi" at the theater. It was bittersweet for me. It makes me so happy to be able to share a universe of characters and stories that I loved as a child with my teenager. He has the same excitement for it that I always did.
But it was Carrie Fisher's, and Princess Leia's, last movie. It was hard seeing her on the screen, knowing she wasn't even here to see the final cut. It had been forty years since the first time we "met" at the theater. She was no longer that nineteen year old starlet about to be blindsided by fame and I was no longer a six year old little girl dreaming of adventures and kissing handsome men. We had both aged since then, but I could still relate to her, with gray hair and extra weight and everything that our histories have done to mold us.  
I love what she had to say about aging, after she was criticized for her appearance in "The Force Awakens", the first movie in which she reprised her role as Princess Leia:
Her last scene in this last film gave me a pang of sadness because I knew there would be no more stories for her. There would be no more adventures for my beloved Princess. No more romance with that scoundrel, Han Solo. They paid tribute to her at the end of the film and it made all the feelings fresh again.
When I was called to come home because my father was dying, I had left a calendar on my desk that had the kind of pages you tear off each day. I never tore another page off of it. It stayed on my desk, forever stuck on September 27, until I moved and put it away in a drawer.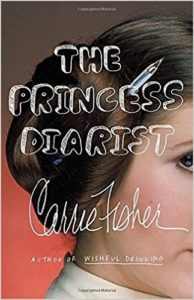 I had the same reaction when Carrie Fisher died. A couple of days before, I received her final book as a Christmas gift. It was filled with anecdotes and her personal diary from the making of the original  Star Wars movie. Her wit and sarcasm and insight were alive and well on every page. I made it halfway through the book before she died. When I got home that night, I couldn't even look at the cover. I put the book on top of my bedroom armoire where it still sits, collecting dust a year later. The jacket is stuck between the pages I left off on.
Maybe some time I'll be able to finish it.
But not yet.
Stay weird, my friends. Normal is boring. Be brave and follow your dreams. A really bad-ass Princess taught me that.