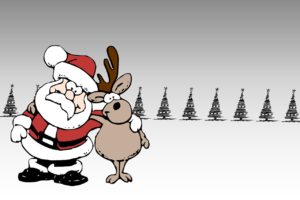 Hi Friends! It's Saturday, just a little over a week until Christmas, and we are in full Christmas preparation mode (with a short detour to the movie theater for "The Last Jedi").
If you're a blog reader like I am (or just a serial Googler, which I also am), then you know that this time of year, bloggers and websites love to post their lists of "favorites". It probably started with Oprah and her "Favorite Things" list, or at least she made it a hugely popular thing. Pretty much every blogger writes a version of this from time to time, so I decided I shouldn't be any different.
Except, I am different. That's why my list of favorite Christmas things probably won't look like one you've seen before.
So, without further ado, here is my Christmas Round-Up for 2017.
Movies
Die Hard. Yes, that's right. Watching Bruce Willis (back when he had hair!) running around, shooting German terrorists and blowing things up is my idea of a festive yule. I know it's not an actual movie about Christmas but the entire movie takes place on Christmas Eve at what started out as a company Christmas party. There's even Christmas music in it.
The Husband Dude tried to object and say this isn't a Christmas movie at all, but I shut that shit down fast. It has been said a million times on Facebook but is worth repeating: It's not Christmas until I watch Hans Gruber fall from Nakitomi Tower.
Love Actually. I'm more of an action movie chick (as evidenced by my first movie choice), but there are a few exceptions. This little British movie has become one of my favorites in the last few years. It's also not really a traditional Christmas movie either, but it takes place during the weeks leading up to Christmas and many of the pivotal scenes have to do with Christmas preparations. 
It costars a very young Andrew Lincoln before he had a gray beard and was fighting off Walkers in Atlanta with a really bad Southern accent on The Walking Dead. There are tons of big name stars: Alan Rickman, Emma Thompson, Liam Neeson, Keira Knightly, Colin Firth, Laura Linney and Hugh Grant, to name a few. I love all the characters but, in my opinion, Hugh Grant steals the movie as the Prime Minister of England, especially with his dance routine. I mean, really, he's just Hugh Grant playing another version of Hugh Grant in any movie. But that's why we love Hugh Grant in the first place, isn't it?
And speaking of both of these movies…I would be remiss in not mentioning that one of my favorite actors, Alan Rickman, is in both movies. I was first introduced to him in Die Hard and have been fascinated by him ever since. I was not a Harry Potter fan (sorry…I know I'm in the minority) so I didn't watch his performance in those movies, but I've pretty much loved him in every movie I've ever watched him in, so these two movies are just a double feature of "Yay" for me when I watch them.
Eat, Drink, and Be Merry. Or Just Drink.
It's a bar.
In a jar.
A minibar in a jar.
I found this on Pinterest, and I don't know why, but this makes me happy. 
If you're looking for something more on the non-alcoholic side, though, I do have some festive suggestions that I absolutely love.
It's no secret that I'm a coffee addict and I like to spice things up with seasonal flavors when they're available.
We have a Keurig, so I buy K cups, and one brand I really have grown to love for their assortment of different flavors is Krazy Cups. They have a TON of flavors and you can even buy assortment packs if you want to just sample different kinds to see what you like.
My "official" recommendation for this round up is the Peppermint Chocolate Mocha.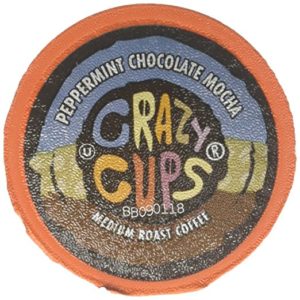 It even comes in decaf, although, my opinion on decaf goes something like this: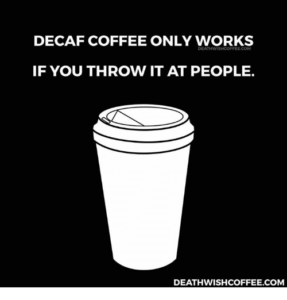 It's a F*cking Coloring Book
I've mentioned before that I enjoy coloring as a de-stresser. If you have an absolute grinch in your life, I think this would be the ideal gift. It's called "Happy F*cking Holidays" and it's brought to you by the author of that other coloring book gem "Calm The F*ck Down".
It's no secret that I'm a sweary kind of person. So there's now a book that combines swearing, coloring AND the holidays? Sign me up!
Sweaters For Introverts…Or Just People Who Hate People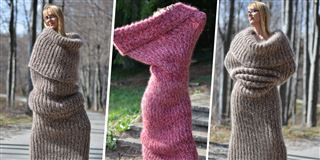 When you just can't take people anymore and want to be alone, what's better than a Mohair total body scarf by Dukyana? It's warm and totally enveloping, like a cocoon. Except I can't gurantee that you'll emerge beautiful and with colorful wings. Most likely, you'll emerge with static-y hair that looks like you've been sticking forks in electrical sockets again.
Not that I would know anything about that.
I just have one question: How does one get the hair off a Mo to knit it?
I need one of these for work and another to keep in the car when I have to be out in public. Seriously.
Naughty Needlework
Cross stitches like your granny used to make.
That is, if your granny was a loose, foul-mouthed drunkard. These might also probably be ideal for the Grinch in your life. You can find patterns for these and many more snarky, foul-mouthed cross-stitches on Etsy.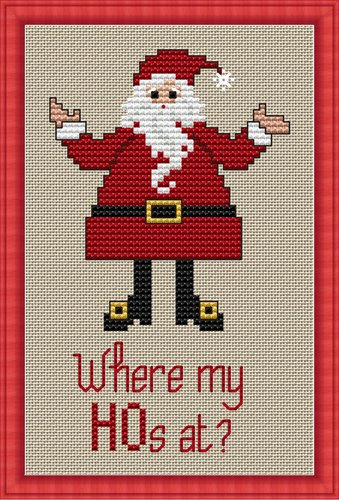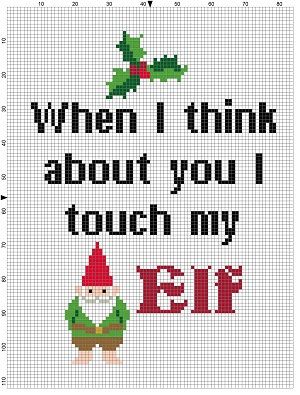 For Those About To Rock, We Salute You
Do you like Christmas light displays? Do you like the band AC/DC? Now you can have it all! Keep your eye on the little Christmas tree dudes on the roof. They "sing" in time with the lyrics. Video is courtesy of Chris Callahan on YouTube.
Something A Little More Mellow
If AC/DC isn't your thing, here's something from my childhood that eventually made its way into regular rotation on MTV around the holidays in my teens. How can you not like David Bowie and Bing Crosby singing together? I like to think that somewhere in the afterlife, they are creating all kinds of cool duets for us to enjoy when we get there. Video courtesy of James Christian Jr. on YouTube.
Enjoy the rest of your weekend. Stay weird, my friends. Normal is boring.