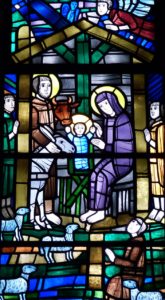 The other night, The Husband Dude and I were watching Charlie Brown Christmas. When Lucy was handing out all the parts for the play, we had a conversation about our own school plays.
THD: I always had to be a villager.
Me: I always had to be the narrator because I was the best reader. And probably had the biggest mouth.
THD: I can totally see that.
Me: So in the Fourth Grade, our part of the Christmas program was to do the Nativity Scene. Now mind you, this was public school but it was back in the day when they still did religious stuff.  I had been waiting all year because I wanted to be Mary. Mary didn't have any lines but she got to wear this beautiful blue robe and she spent the whole scene staring serenely at the Baby Jesus in his manger and the spotlight was on her the entire time. And you know what?
THD: What?
Me: I had to be the narrator.
THD: *nods sympathetically*
Me: I mean, I had all the speaking lines. The actors didn't have any lines. I said everything as narrator and the actors just acted out the scene, so I had a spotlight too and all the lines, but I still just wanted to be Mary. I had even practiced at home wearing my mom's housecoat and a towel draped on my head to be like my veil and I stared serenely at my baby doll. But I still didn't get the part. You know who did?
THD: Who?
Me: Ann Chan.
THD: Ann Chan?
Me: Her father was Chinese and her mother was Japanese. And you know what else? She was atheist.
THD: She was atheist?
Me: Yes. Well, technically, her Dad was atheist. He was a doctor from Communist China so religion was not encouraged there and he was a scientist so I guess all those factors together would contribute to being a non-believer. So her Dad was atheist, her Mom was Buddhist, and Ann was the Virgin Mary.
THD: You had an Atheist-Buddhist Virgin Mary?
Me: Yes. I guess we were diverse before it became a thing. And her parents didn't mind because they were very competitive and all their kids had to be the best. So, even though they didn't believe in the whole story of Jesus, Mary was the starring role, so they were ok with her doing that.
THD: *blinks*
Me: There is actually one year I didn't have to narrate. That was the Third Grade.  You know all of Santa's reindeer?
THD: Yeah.
Me: I got to play the Mama reindeer.
THD: The reindeer had a mom?
Me: All mammals have a mom.
THD: Thanks, Bill Nye the Science Guy.
Me: So anyway, my teacher told me to wear something motherly and get some antlers to make myself look like a reindeer. Apparently, reindeer are the only species of deer where the females grow antlers.
THD: So what did you use?
Me: I figured my Dad was the person to talk to, so I told him I needed antlers. So he goes out in the backyard and cuts a couple of limbs off one of the trees.
THD: And…?
Me: There's no "and". He didn't modify them, or cut them short, or otherwise make them child friendly. He literally strapped them to my head with a pair of my Mom's pantyhose.
THD: *blinks*
Me: So I show up to school with this get-up and my teacher looks horrified. But I'm wearing this cute red and white gingham dress with a long prairie type skirt on it and my boots under it and a shawl to look motherly. She paints my face with exaggerated rosy cheeks and a brown reindeer nose and then she straps that tree limb contraption to my head. I had to wait behind the curtain for my queue and I think Rudolph says something about Mom and I walk out from behind the curtain and the audience just screamed.
THD: You were a hit! Your costume was awesome!
Me: NO! Because I looked like a FUCKING EIGHT POINT BUCK because I had a FUCKING TREE strapped to my head with pantyhose! Some of the men and teenage boys had really itchy trigger fingers that day!
THD: That's great! An eight point buck!
Me: I was supposed to be a Mama Reindeer, not a trophy on someone's wall!
THD: That's still great. Do you have a picture?
Me: I think I have a fuzzy Polaroid somewhere, but I'm not sure you can see the full effect of the antlers in the picture.
* Long Pause* 
Me: So which one were you? The cop or the construction guy?
THD: What are you talking about?
Me: You said you always had to be a villager. Which one of the Village People were you?
THD: Oh you're funny.
Me: Should I sing Y.M.C.A?
THD: No.
He walks away to the bedroom, then pops his head back into the living room.
THD: I would be the motorcycle guy.
And that, my friends, is why we're still married.
I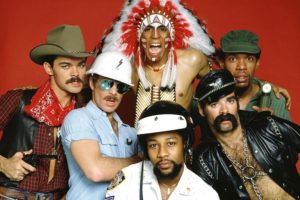 Are you enjoying the blog? Join my Facebook page. It's where all the cool kids hang out!
And if your child has to play a reindeer, PLEASE don't strap tree limbs to their head. Here are some better choices. You'll save your child a headache. Literally.